I'm really happy to announce that registration for
Mid-Atlantic Mod: A Modern Quilting Retreat
is now open to all members of the DC Modern Quilt Guild. We are partnering with the Philly and Central Jersey Modern Quilt Guild's for a relaxing and fun retreat in Lancaster, PA next spring.
I also wanted to make sure everyone saw our
Call for Instructors
--we plan to hold 6 workshops on Saturday. There will be a fee for each workshop, which will be paid directly to the instructor.
If you have an idea or two for these optional, a la carte workshops, please fill out the form (before November 30, 2013.)
Note: If you pay via check at a DCMQG meeting, it is $90 for members and $115 for
non-members. The extra $3 charged covers paypal fees. Thanks! Katie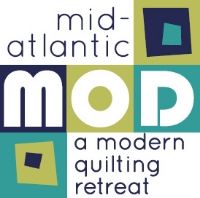 I have included information from our website,
Mid-Atlantic Mod
, below.
Mid-Atlantic Mod: a modern quilting retreat
is a modern quilting and sewing retreat organized by the Philadelphia MQG, the DC MQG, and the Central Jersey MQG. The purpose of the retreat is primarily to bring modern quilting and sewing enthusiasts together for a weekend of sewing and socializing. The retreat will include some (optional) workshops and activities, but will focus on open sewing time.
Dates
: From 1:00 PM on April 3, 2014 to 9:00 PM on April 6, 2014
Location
:
Doubletree by Hilton
in Lancaster, PA. Please click on the
Location
link at the top for more details.
Cost
: $90 for members of the guilds above; $115 for non-members. Non-member registration will open on November 1, 2013. Each guild has 20 slots available.
Lodging
: Room rate is $129 per night for single or double occupancy. Reservations should be made on your own.
Food
: Food catered by the hotel is very pricey, so we have opted to NOT include food in the costs. There is a restaurant in the hotel and numerous other restaurants nearby. Please see the
Location
link at the top for more info about the area.
Workshops
: Not everyone wants to take workshops, so to make the event more affordable for all, we have NOT included workshop fees in the registration cost. We are looking into adding workshops if there is enough interest and these workshops will be offered a la carte for an additional fee. More details will be posted to the
News
page above when available.
Activities
: We are contemplating various activities including: shop hop, virtual shop hop, progressive quilt, inter-guild swap, and others. Please check the
Activities
page for details. We will update this page as we add activities.
Sponsors
: If you are interested in becoming a sponsor, please contact us by clicking
here
. We have a variety of options for sponsorship. All sponsors will have the opportunity to provide a logo that will be displayed prominently on this website (with a link to the company website, if provided) and in the welcome materials provided to all attendees.
Please use the
Contact Us
link if you have any further questions.